Please Call us after your payment is complete to confirm the date of your class:

909-305-8784 (Mon – Sat) 9:00am – 5:00pm


New Class Dates just added:
Feb 4 ,2011 ———–Feb 11, 2011———– Feb 18, 2011———— March 10, 2011——— March 17,2011——– March 24, 201
(More class days will be added, please check this page weekly for updates)
http://www.honestdentistry.com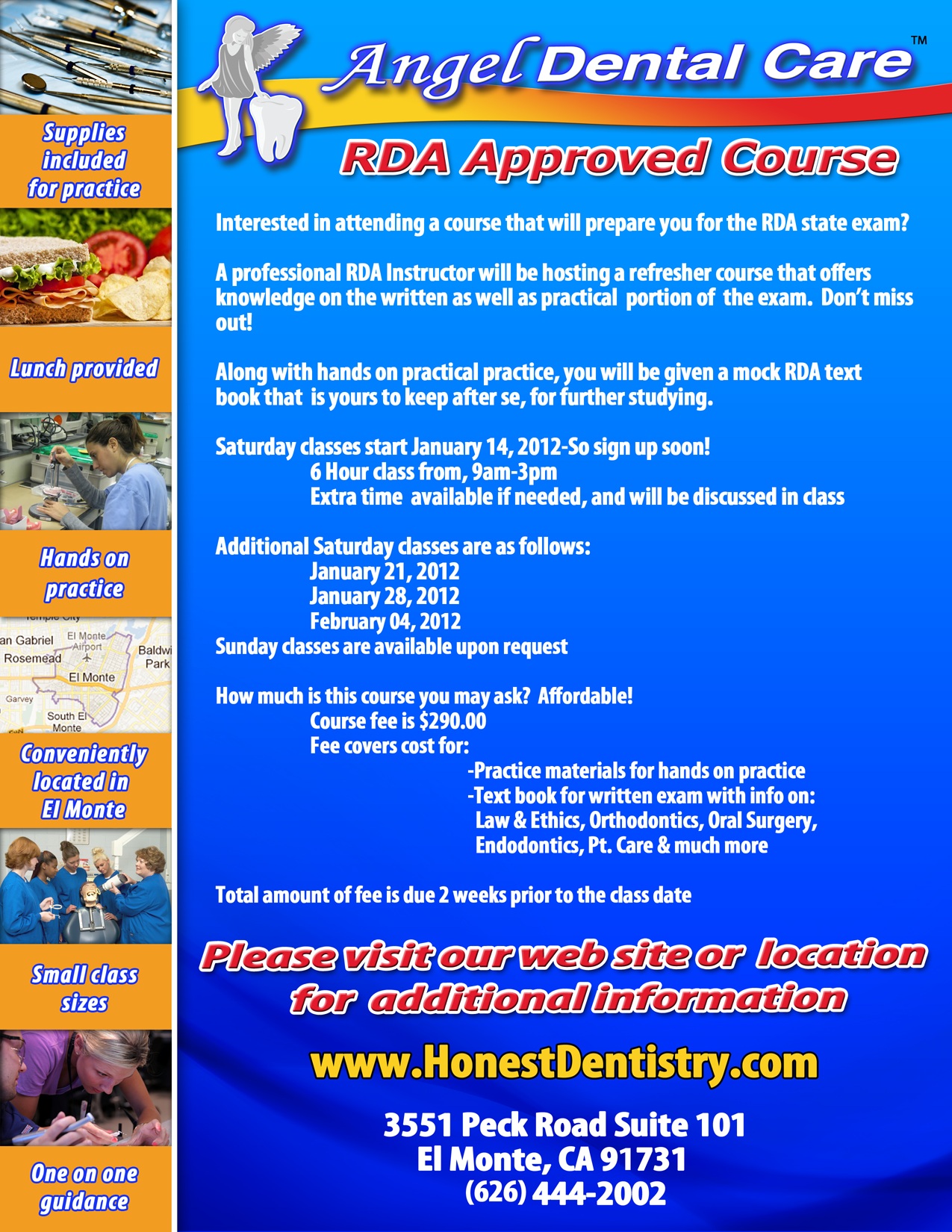 In their quest to make dentistry accessible to all people, the professionals at Angel Dental Care are now offering an RDA approved course to prepare you for the RDA state exam. Have you always dreamed of helping people, but never figured out how that was possible. Now is your chance. An instructor will be holding regular refresher courses to help on the written and practical portions of the exam. You will also receive a mock RDA text book to continue studying with after the course is over.
Class start January 14, 2012, so be sure to sign up soon. You can visit Angel Dental Care for more information, or feel free to stop by 3551 Peck Road Suite 101, El Monte, CA 91731 to find out more. You can also call Angel Dental Care at 626-444-2002 anytime. This RDA approved class is affordable, and you'll be happy that you signed up. Start looking forward to your future of dentistry with classes from Angel Dental Care.
Some Information from the Dental Board of California:
Continuing Education Requirements
Dental Assisting licensees renewing for the first time are exempt from continuing education requirements. The minimum requirement for each renewal period after the first renewal is 25 hours of continuing education, including:

Basic Life Support
2 hours of California Infection Control
2 hours of California Dental Practice Act
You may view and download the regulations regarding continuing education by clicking on this link: Title 16 California Code of Regulations Sections 1016 and 1017)
Website: http://www.honestdentistry.com
Location: 3551 Peck Road Suite 101, El Monte, CA 91731
Author: http://websitegrowth.com